Installation
Installation Capabilities
Lindsey Refrigeration professionals have designed and installed 1000's of commercial cooling/refrigeration and commercial air conditioning products and solutions since we started doing business in 1962. Our professional technicians receive ongoing training to stay on top of what's new in our prospective field. We provide installation for new single unit, whole system or system upgrade projects. Products and technologies have changed greatly over the years, but one thing has remained the same: We stand behind our products and our installations.
Experience Makes a Difference
Regardless of customer size, our goal is to provide our clients with an installation that is technically excellent and skillfully completed. Our team is experienced in all aspects of the planning, designing and building of any commercial refrigeration or air conditioning system. The expertise of our installation crews, combined with their attention to details, means every customer gets sound results and minimal downtime.
You Deserve Peace of Mind
When you choose Lindsey Refrigeration, you can expect your new refrigeration or commercial air conditioning project to be completed in an effective and efficient manner. Our many years of experience make us able to anticipate your needs, avoid problems and assure a trouble free installation. We show up on time and are respectful of your employees and your property. We take care to complete each project with minimum interruption to your workplace processes. We're professional, courteous and neat. Our great service doesn't stop once your installation is complete. We're here to help you get the most from your new equipment. Lindsey Refrigeration offers repair services and maintenance contracts to maximize the longevity of your systems; and help you get the most out of your hard earned money!
For your free quote or to find out more, call us toll free:
(800) 544-4564.
Refrigerated, multi-level adjustable shelving display units.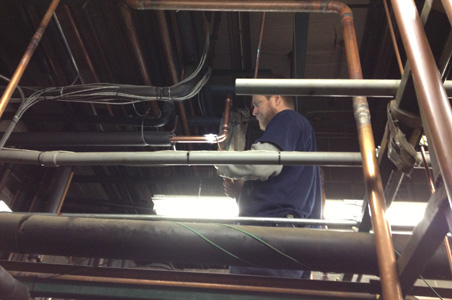 Piping.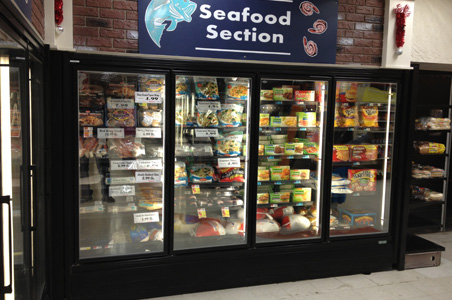 Glass Door Merchandiser.