Service & Repair
Efficient Customer Service
Lindsey Refrigeration has dedicated professional technicians that specialize in the service and repair of existing commercial refrigeration units and systems as well as commercial air conditioning equipment. Our technicians are thoroughly trained; and are able to quickly diagnose and fix any problem you may encounter with your cooling equipment, from freezers, display cases and climate controlled warehouses to whole building commercial conditioning systems. We understand the importance of all your cooling systems to your business and we strive to keep you operating as efficiently as possible.
Mechanical Malfunctions of Commercial Refrigeration Systems
Commercial refrigeration equipment can break for a variety of reasons like excess wear, poor maintenance, the age of the equipment and other mechanical reasons. Our technicians are trained to diagnose and fix any problem you may encounter with your commercial refrigeration equipment.

We check for factory recommended settings and if all the scheduled maintenance has been performed and make any required adjustments. Our licensed technicians have fully equipped trucks so they can maintain and repair motors, compressors, condensing units, evaporators, piping and various other components on site. We can also work with major equipment manufacturers to have specific replacement parts and components shipped quickly to us to shorten down-time.
Emergency Repair Services
To meet this commitment to our customers, we allow for flexibility in scheduling. For those times when it's an emergency, we will dispatch a licensed technician as soon as possible to access the problem and formulate a solution. If possible we will fix your cooling or equipment problem on site. Sometimes additional parts or repairs may be required, and we will rush to get the problem resolved as fast as possible with the least inconvenience as possible. We understand the impact that a broken freezer or air conditioning system can have on a business. So we work hard and fast to get your problems resolved.
Valve Replacement.
HVAC Troubleshooting.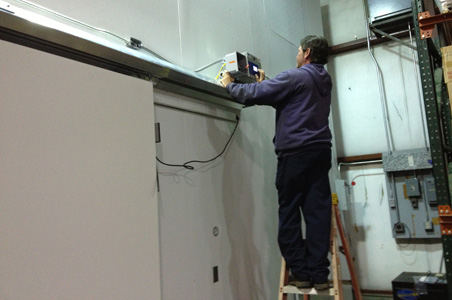 Commercial Door Repair.